Dr. Robert D. Ballard | American Ocean Explorer
Reading "NEVER FORGOTTEN" brought back many old memories of the Cold War when I was serving in the U.S. Navy. The story surrounding the loss of the Israeli submarine DAKAR, always fascinated me as a Naval Intelligence Officer. Its sinking led to all sorts of conspiracy theories so it was great to finally learn the truth!
Dr. Ballard co-authored "Bright Shark",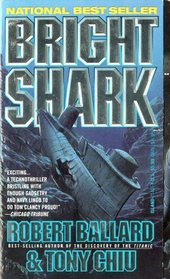 a techno-thriller inspired by the disappearance of DAKAR. Among the most accomplished and well known of the world's deep-sea explorers, Dr. Robert Ballard is best known for his historic discoveries of hydro-thermal vents, the sunken R.M.S. Titanic, the German battleship Bismarck, and numerous other contemporary and ancient shipwrecks around the world. During his long career he has conducted more than 150 deep-sea expeditions using the latest in exploration technology.
Next →